Major Airports In Western Part of India



Best Places to Visit in Western Part of India
1. Goa's Beaches
India as tourist destination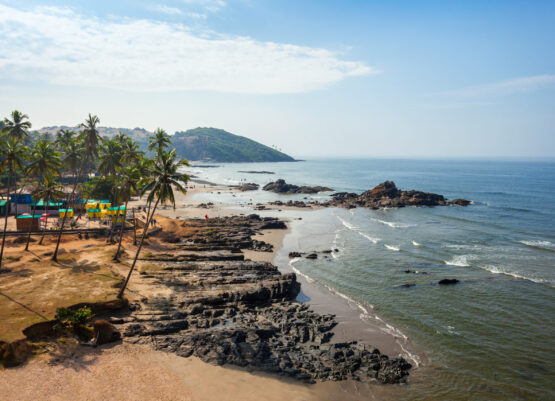 Goa is one the most popular travel destinations in the world, highly praised for its beaches and rich heritage! A large number of tourists come from the west to the sun-soaked beaches of Goa to get a tan and enjoy the cool breeze of the sea. Goa is also a perfect destination for adventure-lovers and party animals. A wide range of water sports activities is available on the beaches.
Dudhsagar Falls is another major attraction that is gaining wide popularity. A safari through the jungle up to the enchanting waterfalls will surely get your adrenaline pumping!
Goa is home to some of the oldest and most exquisite churches. The UNESCO-listed Basilica of Bom Jesus is where the 500-year-old remains of St. Xavier are kept and is must visit. The churches have a majestic aura about them and reflect influences of Portuguese architecture.
Another of Goa's attractions is the famous music festival, Sunburn, held around the New Year, and you simply cannot miss it!
2. Udaipur, Rajasthan
India as tourist destination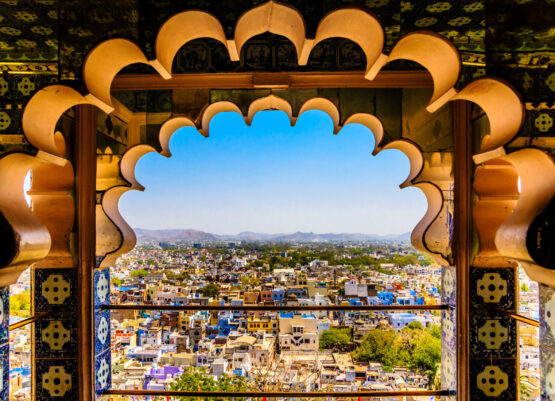 Udaipur, the crown city of Rajasthan, is a city of lakes and filled with rich history. The city abounds in natural beauty and is surrounded by the Aravalli hills which add to its scenic beauty. Udaipur has rightly been called the 'Venice of the East'. Its palaces are architectural delights and display intricate glasswork and fascinating remnants from the time when Rajasthan was ruled by Maharajas. In addition to its palaces and forts, Udaipur is also dotted with a number of temples and has plenty of local markets to explore.
Best Time to Visit: September to March
Key Attractions in Udaipur: City Palace, Lake Palace, Sajjangarh Palace, Lake Pichola, Jaisamand Lake, Udaisagar Lake, Saheliyon Ki Bari, Jagmandir, Jagdish Temple, Fateh Sagar Lake, Ahar Cenotaphs, Moti Magri, Doodh Talai, Shilpgram, Bagore Haveli, Ambrai Ghat, Maharana Pratap Memorial, Vintage Car Museum, and Sajjangarh Biological Park. Learn more about things to do in Udaipur
Nearest Airport: Jaipur International Airport
3. Jaisalmer, Rajasthan
India as tourist destination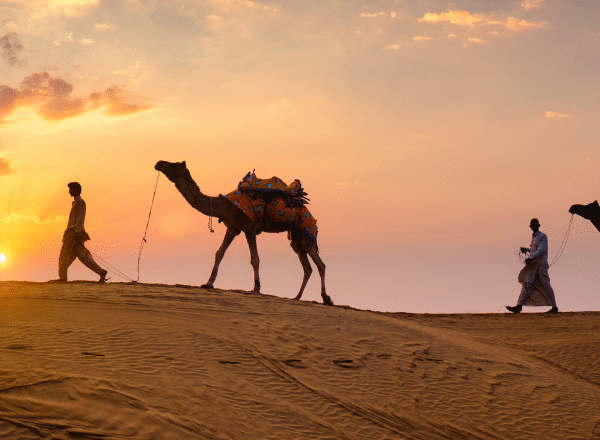 The golden dunes of Jaisalmer give it the moniker- the Golden city. The desert in itself is mesmerizing and stretches over thousands of kilometers. The Desert National Park is one of the few places in India to spot the endangered Indian bustard. Jaisalmer flaunts its rich past with Havelis, cenotaphs, and ornate forts. It is also home to many magnificent Hindu and Jain temples. Apart from its visual beauty, a camel ride across the Jaisalmer desert is a unique treat and an unforgettable experience.
Best Time to Visit: October to March
Key Attractions in Jaisalmer: Jaisalmer Fort, Patwon Ki Haveli, Gadi Sagar, Salam Singh Ki Haweli, Nathmal ki Haveli, Desert Culture Centre and Museum, Vyas Chhatri, Tazia Tower, Government Museum, Bada Bagh, Jain Temples, Tanot Rai Mata Mandir, Amar Sagar, Sam Sand Dunes, Lodharva, Thar Heritage Museum, and Desert National Park
Nearest Airport: Jaisalmer Airport
4. Pushkar, Rajasthan
India as tourist destination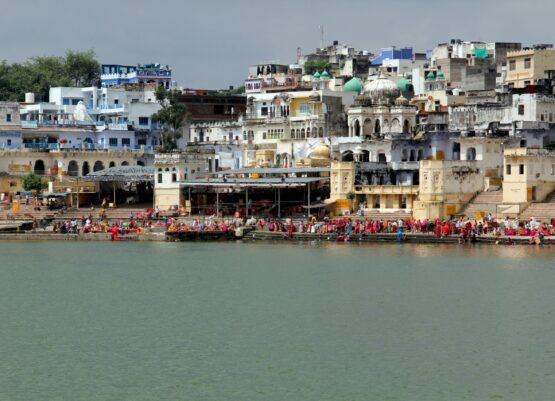 With interesting mythology, Pushkar is unlike any other town in Rajasthan. It is a major pilgrim town that dances to the tunes of devotional music and the sound of bells and drums. This is the only place in India to have a temple dedicated to Lord Brahma. Apart from this, Pushkar has over 400 temples and 52 bathing ghats around the Pushkar Lake. During the camel fair, the town takes on a festive, colorful air with cultural fetes and unique competitions.
Best Time to Visit: November to March. October to November is the camel fair
Key Attractions in Pushkar: Pushkar Lake, Brahmaji Temple, Savitri Mata Temple, Rangji Temple, Varaha Temple, Pushkar Adventure Camp, Lake Foy Sagar, Gayatri Mata Temple, Rangji Temple, Gau Ghat, Man Mahal, Gurudwara Singh Sabha, Rose Garden, and Brahma Ghat.
Nearest Airport: Jaipur International Airport
Nearest Railway Station: Ajmer Junction, Pushkar Terminus
5. Ranthambore, Rajasthan
India as tourist destination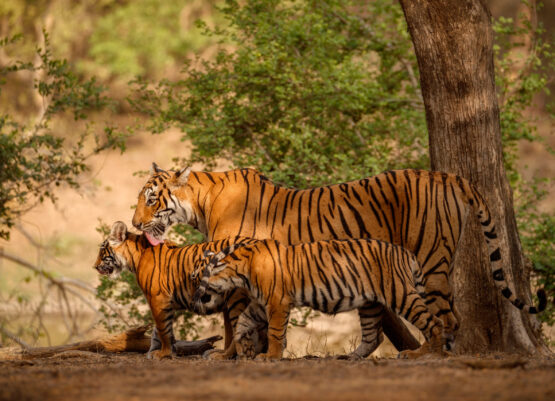 Best known for the Ranthambore National Park and its majestic tigers, Ranthambore stands out for its natural beauty, diverse flora, and architectural splendor. You can go on the Ranthambore safari to spot tigers, chinkara deers, and other wild animals. The place is dotted with regal forts recognized by as a UNESCO World Heritage Site and ruins of old palaces. Picturesque lakes around Ranthambore are ideal picnic and birdwatching spots. Ranthambore also offers an opportunity to explore traditions and Rajasthani culture with numerous handicrafts.
Best Time to Visit: October to April
Key Attractions in Ranthambore: Ranthambore Tiger Reserve, Ranthambore Fort, Trinetra Ganesh Temple, Surwal Lake, Padam Lake, Kachida Valley, Raj Bagh Ruins, Jogi Mahal, Malik Talao, Lakarda and Anant Pura, Akaula Region, Wild Dragon, and Ranthambore Schools of Art
Nearest Airport: Jaipur International Airport
6. Mumbai, Maharashtra
India as tourist destination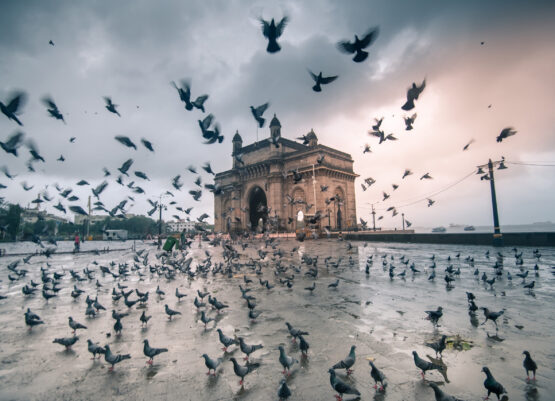 Mumbai is a city that needs no introduction. It is where Bollywood, the Indian film industry, has blossomed. It is India's city of dreams. Apart from the star-studded streets, Mumbai is famous for its beaches, rock-cut architecture, and yes, of course, Essel World, India's largest theme park!
An evening walk on Juhu Beach, while enjoying Mumbai's famous pav bhaji, is an unforgettable experience you won't want to miss. A walk along Marine Drive is another favourite tourist pastime. Ajanta, Ellora, and the Elephant Caves comprise the rock cut architecture of Mumbai and are widely popular places to visit.
There's so much to do in Mumbai – from visiting famous monuments such as the Gateway of India to partying at the nightclubs to having fun at the amusement parks or just taking a walk along Juhu Beach. Adlab's Imagica, a recent addition to Mumbai, is an Amusement Park which will leave you stunned!
7. Daman and Diu
India as tourist destination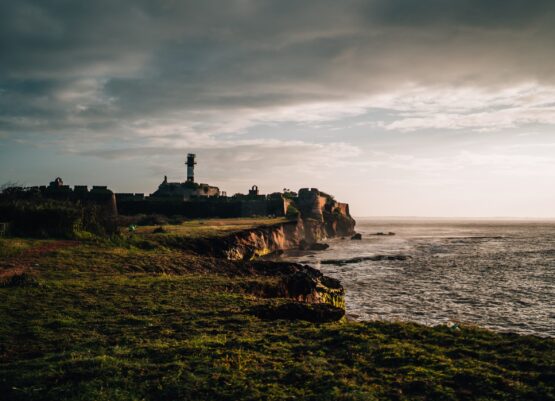 The twin islands of Daman and Diu in Gujarat, which were once the colonies of the Portuguese, are a perfect destination to escape the stressful city life. The peaceful atmosphere on its beautiful beaches – Nagoa, Simbor and Chakratirth is simply outstanding; the sound of crashing waves, the blue skyline and the cool breeze make for an ideal setting to unwind and September is the best time to do it.
Places to visit in Daman and Diu: Naida Caves, Diu Museum, INS Khukri Memorial, Zampa Gateway, Panikota Fort, Diu Fort, Gangeshwar Temple and Church of St. Francis of Assisi
Things to do in Daman and Diu: Indulge in adventure activities like water skiing and parasailing at the beaches of Daman and Diu, enjoying boating, pony riding and camel riding at the beaches, relish local cuisine and enjoy water sports at Mirasol Water Park
Weather of Daman and Diu: The average temperature in the month of September falls between 18 and 25 degrees Celsius
8. Pune, Maharashtra
India as tourist destination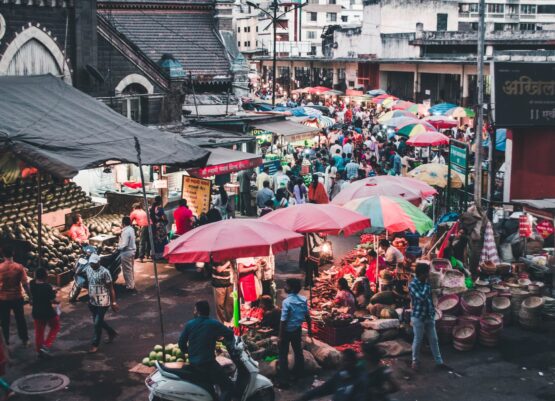 If Mumbai is the most happening place in Maharashtra, then it's neighbour Pune is the cultural hub and the biggest city in the state. An upcoming IT centre and a fascinating city, Pune has no shortage of things to intrigue the interest of almost anyone who has ever been here or has heard of the city. With being in the proximity of many major cities and acting as a centre seat for when getting to major attractions of the state is concerned, the places to visit in Pune and around will never cease to amaze you with their unique roster of features.
And for places to stay in Pune and around, there are innumerable options to choose from. You can choose to stay in a luxurious resort in Pune or go for a hillside resort in the embrace of Maharashtra's favourite hill stations like Khandala, Lonavala or Mahabaleshwar for the true weekend getaway from Pune, not so far away from the city. And for the ones who like mix adventure with their stays and take it all to a whole new level, Pune is not going to disappoint you. With options ranging from a camp stay on the banks of Pawna Lake to a village stay experience in Junnar, there is just no stopping the fun that one can have in Pune.
9. Lonavala, Maharashtra
India as tourist destination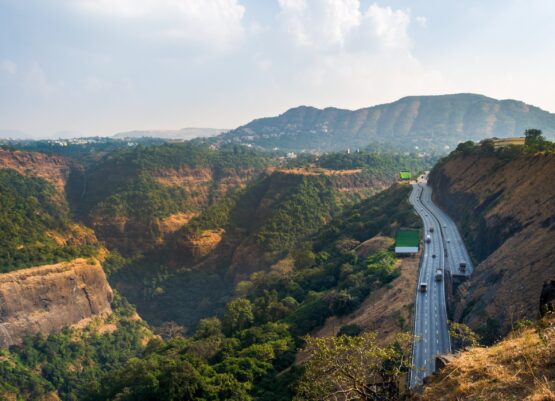 Lonavala city is one of the most beautiful retreats, that takes you away from the maddening rush of the metropolises. It is located in the western part of India in the Pune district of Maharashtra. This hill station lies 96 kilometers east to the metropolitan city of Mumbai and 64 kilometers west to the modern-day Pune city. Therefore, a profound location on the Mumbai-Pune expressway makes Lonavala cater to both the cities with the smoothest connectivity through roads.The Lonavala City is popularly called the "city of caves' ' and the "Jewel of Sahyadri". That is because the hill station boasts of some of the most spectacular settings that include luxuriant green valleys, remarkable caves, serene lakes and stunning waterfalls. The spectacular rock-cut Bhaja and Karla caves in Lonavala have been amazing tourists with their old beams, motifs and inscriptions.
Lonavala has a tropical climate but the weather is an all-time maritime one. However, all the stunning places and sites of Lonavala come alive during the winter and monsoon seasons. Thus, pack your bags and come here because Lonavala has something for everyone, from quiet time to adventure.
10. Mahabaleshwar, Maharashtra
India as tourist destination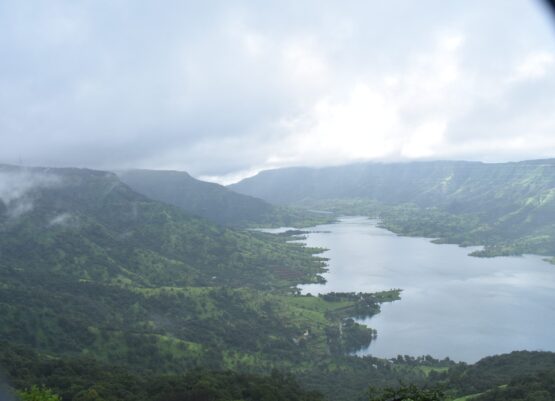 Nestled in the picturesque Western Ghats, tourist places in Mahabaleshwar will captivate your imagination with their natural splendor. Mahabaleshwar is well known for its numerous rivers, magnificent cascades, and majestic peaks. The city comprises of ancient temples, boarding schools, manicured and lush green dense forest, waterfalls, hills, valleys that will take your breath away on your visit. The city is definitely among the most sought-after weekend getaways from metropolitan cities like Mumbai and Pune. Once, the summer capital of Bombay during the British Raj, the city has British influence of in its architecture. It is a very popular hill station that offers a plethora of tourist activities and attractions to avid travelers and nature lovers.
Amid your visit to Mahabaleshwar witness the alluring dawns and dusks from the slope, in the midst of the rich green vista. Located about 120 kilometers southwest of Pune and 285 kilometers from Mumbai, Mahabaleshwar is a vast plateau measuring 150 kilometers, bound by valleys on all sides. The hill station in the Western Ghats is the source of the Krishna River that flows across Maharashtra, Karnataka and Andhra Pradesh.
11. Kutch, Gujarat
India as tourist destination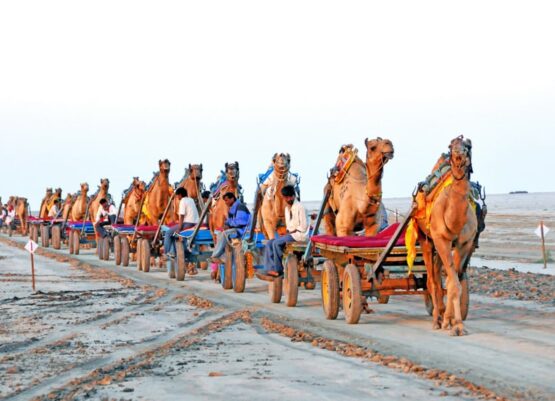 If you are looking for places to visit in Gujarat, then Kutch is the crème de la crème of the places you would want to explore. The architectural grandeur, cultural marvel, and sumptuous cuisine are bound to make it difficult for you to leave. Kutch lies on the India-Pakistan border, and you can see parts of Pakistan from here.The best time to visit Kutch is during winter, from November to February. The long winter evenings reflect the light of the moon on white sands, giving it an aesthetic appeal. In fact, the famous Rann of Kutch festival takes place at the same time, flaunting its remarkable glory.
The second most important determinant of how your trip goes, after climate, is where you should go. Be it for a short period of time or a long one; there are places in Kutch that must be visited for a memorable sojourn into a cultural lifestyle.You must have heard about the Rann of Kutch in your geography classes, but seldom did they cover the humbling beauty of the place. The massive deposits of salt in the area gives it a surreal appeal. It's beauty has also been portrayed in various Bollywood films like Ramleela and Refugee.
12. Ahmedabad, Gujarat
India as tourist destination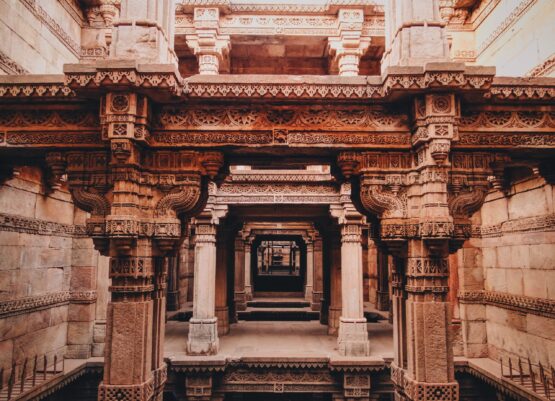 Ahmedabad, also known as the 'Manchester of India' is an apt weekend destination amongst tourists who want to unwind themselves amidst nature and capture the beautiful essence of Gujarat. Ahmedabad is the western India's most vibrant city known for its cotton industries mushrooming into the cities and its cotton products burgeoning across India. The best tourist places in Ahmedabad offer an array of activities as ­ a known shopping destination for fabrics, an exciting and pleasing vista of flora and fauna, an essence of true Gujarati cuisine and an amalgamation of architecture.
The Sabarmati Ashram situated in 1917 was the abode of Mohandas Karamchand Gandhi or better known as Mahatma Gandhi during the years of Independence struggle. The ashram on the banks of and named after the river 'Sabarmati' has a very subtle architecture with a soothing and tranquil atmosphere.The ashram has served two purposes quintessentially as the epicenter of freedom struggle and as the place that united a group of people who committed to 'ahimsa' or non-violence to secure independence.